"In 1842 G. Rossini's Stabat Mater was performed at the Archiginnasio of Bologna, and it was the first time that it was performed in Italy. Rossini himself, who lived in Bologna, wanted that performance for charity purposes, that is to create a fund of subsidies for Bolognese musicians who lived in poverty. At his own request, Donizetti came to direct the performance, which was very successful. Rossini wanted Marquis Bevilacqua, several others and me to take care of it".
This is what Marco Minghetti wrote in his Memoirs about the extraordinary performance that was held on the evening of the 18th March 1842, under Gaetano Donizetti's direction, with reruns in the following two evenings, in the auditorium of the Archiginnasio, now called "Stabat Mater Hall" in memory of that event.
In Marco Minghetti's archive, preserved among the special funds of the Archiginnasio, there is a dossier of documents referring to the work of the commission that was responsible for the supervision of the performance. Minghetti himself was among the most authoritative members of the commission.
. 
On the occasion of the performance, the entrance, the staircases, the loggias and the hall were illuminated by branched candlesticks and chandeliers. The 63-pieces orchestra was arranged in various orders on a raised stage that was shaped like a horseshoe, while in the back of the hall, a small stage closed by a grid had been built for the authorities.
In addition to the four soloists, the soprano Clara Novello, the contralto Clementina degli Antoni, the tenor Nicola Ivanoff and the bass Pompeo Belgioioso, there was a choir composed of 87 singers. The audience of the first evening consisted of about 650 people.
On the 11th February 1869, after Rossini's death and at Quirico Filopanti's suggestion, the City Council decided to affix a plaque on the walls of the large hall to commemorate the event of the Stabat Mater performance. The epigraph was located on the wall on the 13th November 1896.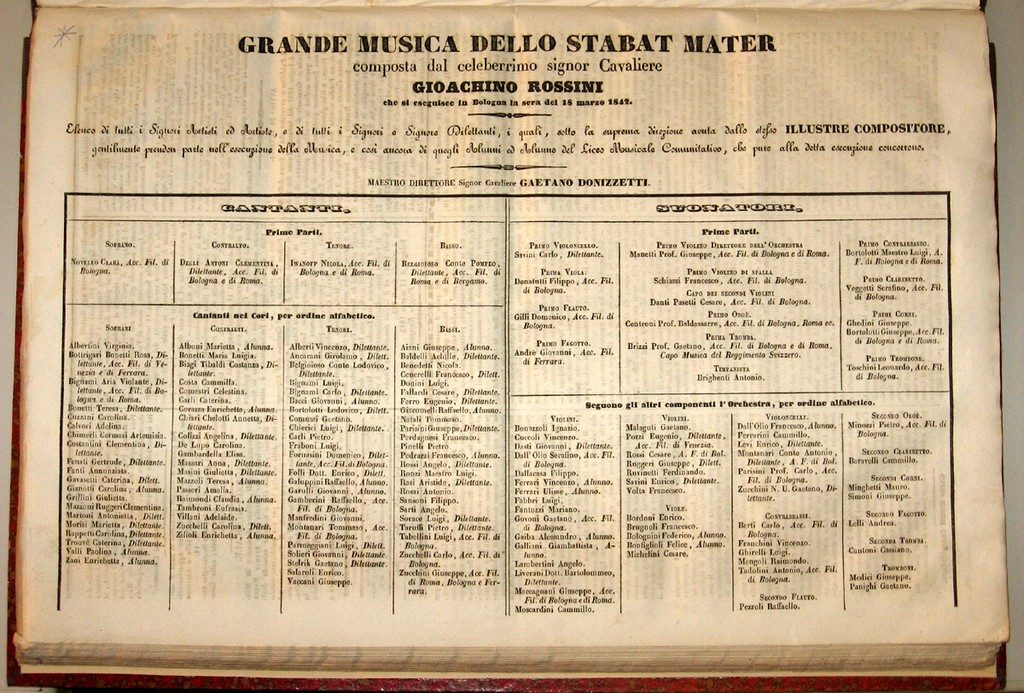 On the 24th May 2018, as part of the celebrations for the 150th anniversary of Gioacchino Rossini's death, the Orchestra and the chorus of the Teatro Comunale of Bologna that were directed by Michele Mariotti, have once again performed the Stabat Mater in the same hall, as it happened in 1842 (Listen to the recording).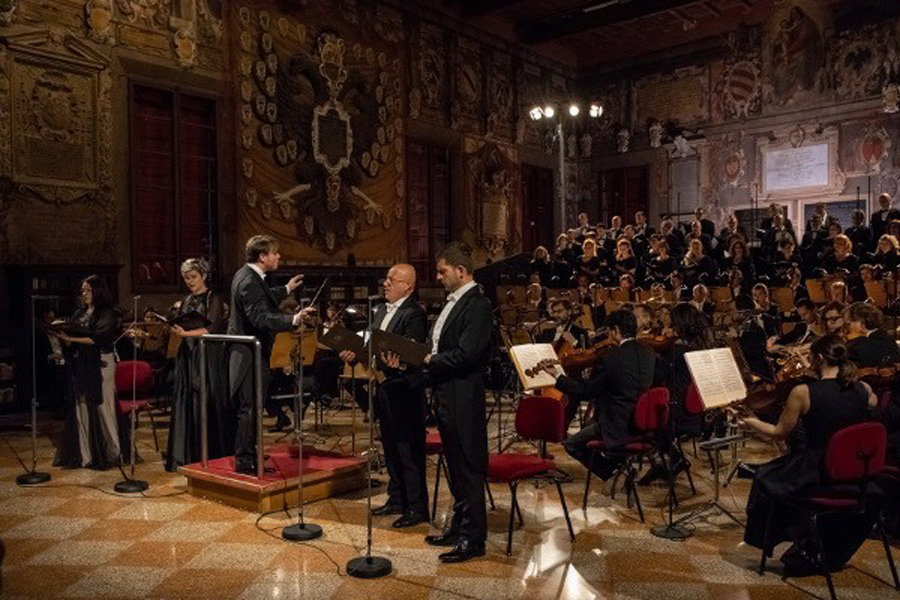 To learn more, visit the online exhibition in the Digital Library of the Archiginnasio.