On the ground floor there are some rooms that were the first to be frescoed and were intended for professors and janitors of the University. They are now the seat of the Medical Surgical Society and the Academy of the Agriculture.
In the centre, in the eastern side of the courtyard and in front of the entrance door, is the Chapel of Santa Maria dei Bulgari. Its name reminds that of a church which stood "in curia Bulgari", that is near the houses of the famous jurist Bulgaro (12th century). It was the chapel of the Studio and it was commissioned by Pier Donato Cesi.
The chapel preserves the remains of a cycle of frescoes with "Stories of the Life of the Virgin" (1591 – 1594), by the Bolognese painter Bartolomeo Cesi, who was one of the greatest interpreters of the late-fifteenth-century Bolognese figurative culture. Unfortunately, the frescoes were largely destroyed because of the air raid that, on 29th January 1944, devastated the eastern side of the building.
On the high altar there is the altarpiece of the "Annunciation" (1582) by the Flemish artist Denis Calvaert (about 1540 – 1619), founder of a school where artists like Guido Reni and Francesco Albani will be trained.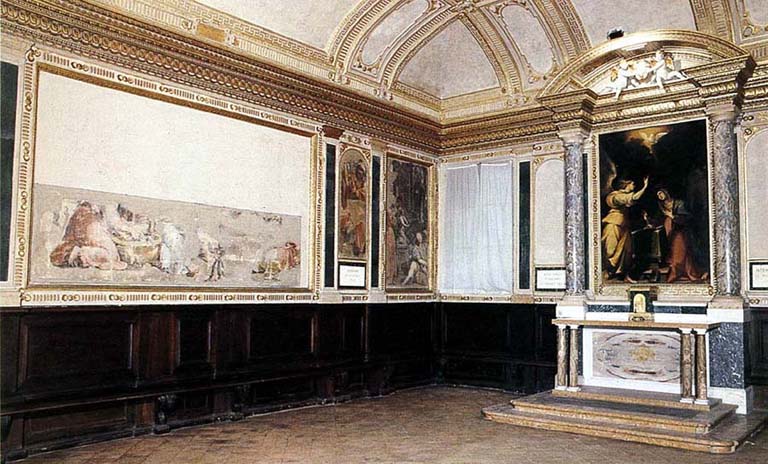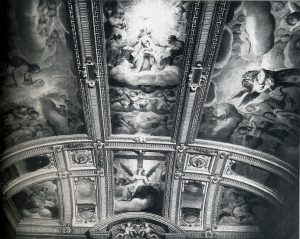 Details of Bartolomeo Cesi's frescoes photographed before their destruction