What was it?
It was the auditorium where the law students gathered (the auditorium of the Legisti), as well as the artists (students of philosophy, medicine, mathematics, physical and natural sciences) gathered in the specular large hall, now the Reading Room of the Library.
The fresco depicting the Virgin and Child (1569) stands in the centre of the west wall and overlooks the place where the desk was located. This was a custom repeated also in all ten classrooms, that now are legal deposits.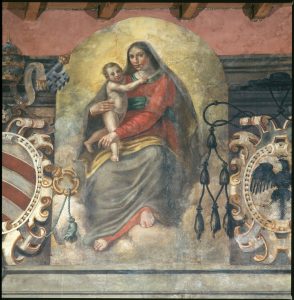 Why is it called "Stabat Mater Room"?
The room is now called "Stabat Mater Room" in memory of the first Italian musical performance of the liturgical sequence of the "Stabat Mater" by Gioacchino Rossini, held on the 18th March 1842, under the direction of Gaetano Donizetti. 
What is it now?
It is one of the rooms where the books of the library are kept, as well as in the ancient classrooms visible from the gate on the far right. It is the seat of lectures, conferences and concerts that are available on the Youtube channel of the Library of the Archiginnasio (https://www.youtube.com/channel/UCpgAB0KMU5XWysvFkN_AVXw).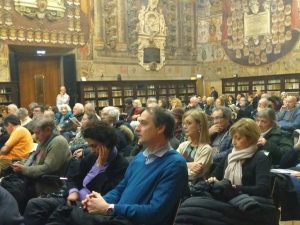 Since it is an auditorium, the hall is richly decorated with various gratulatory compositions that sometimes overlap with the older ones.
Curiosità: