On the 29th January 1944, at ten to one, the long sound of a siren informed the Bolognese that the air raid which had begun at half past eleven had ended. Hundreds of people, including librarians, readers and passers-by who wanted to escape the bombing, slowly left the shelter located in the basement of the Archiginnasio.
There was dust and terror on their faces, as they had a brush with death: in fact, at six past twelve, a bomb hit the palace.
The shelter had resisted the bombing, but an entire wing of the building had collapsed, the eastern one, where there were the Anatomical Theatre, the Chapel of S. Maria dei Bulgari with Bartolomeo Cesi's frescoes, the Direction (now Cabinet of Drawings and Prints) and the Room 16.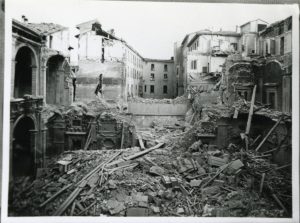 "The eastern part of the building, the famous anatomical room (unique in the world) and the Chapel of S. Maria dei Bulgari have been completely destroyed. The cloister has collapsed from its south-east sides, and the rooms of the Direction, and of the former museum of the eighth century of the University, as well as the libraries of the Medical Surgical Society and the Agrarian Society on the ground floor are lost. Room 16 (which corresponds to the secretariat) and Room 15 have been badly damaged but, considered as a whole, they are intact. Of course, the granaries located at the top of the cloister have collapsed" (Ludovico Barbieri, the director of the Library, in a letter of the 31st January, addressed to the prefectural commissioner).
"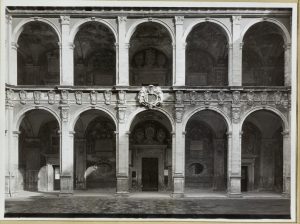 The eastern wing of the Archiginnasio before the bombing. We can notice the presence of the coats of arms, no longer visible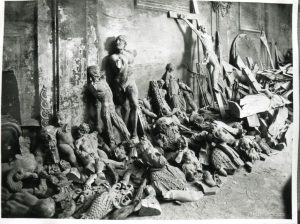 Decorative fragments of the Anatomical Theatre that have been recovered after the bombing that had damaged the Archiginnasio on the 29th January 1944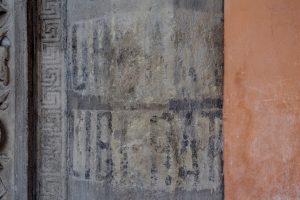 On the right side of the entrance gate of the Palace, under the porch of the Pavaglione, is still visible an inscription made by the fascist authorities after the bombing of the 29th  January 1944: "WORK OF THE LIBERATORS". These are propaganda writings against the Allies that were written on the rubble of monumental buildings.
.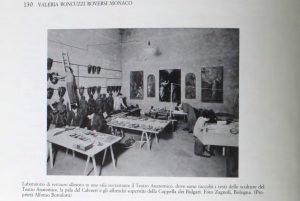 The restoration workshop was set up in the post-war period, in a room above the Anatomical Theatre, where fragments of wooden sculptures of the theatre, the Calvaert's Altarpiece and other frescoes of the Chapel of the Bulgari, were collected.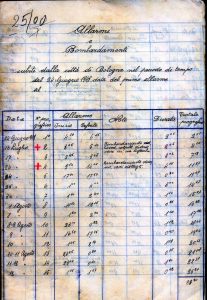 Alarms and bombings suffered by the city of Bologna in the period from the 24th June 1943 of the first alarm to… On the 29th January, from half past eleven to forty past twelve, one reads: fast, serious incursion at 12:06 p.m. Overflight other information". .
To deepen: Bologna bombardata: 1943-1945