The work of artist and naturalist Maria Sibylla Merian (Frankfurt 1647-Amsterdam 1717) contributed to raising the quality standards of naturalistic illustration. The exhibition explores the contemporary relevance of her figure by staging a dialogue between volumes from the Archiginnasio Library belonging to her existential and scholarly horizon and a contemporary artist's book, Archivio Merianin. Del viaggio in Suriname e altre carte (le Magnificheeditrici/2022), that the illustrator and graphic designer Manuela Marchesan has dedicated to Merian by interpreting iconographic sources of different origins from the 17th century to the present day.
Starting with Merian's famous work on the insects of Suriname, the exhibition focuses on her 1699 trip to the South American country, presenting 16 beautifully illustrated antique volumes, iconographic suggestions from different sources and the original  artist's book plates hand-printed.
The exhibition is divided into three sections: Before the Journey, The Great Journey, After the Journey; the last stage of the exhibition is dedicated to the presentation of the artist's book. The Itinerary weaves together the places and people of Merianin's life: it starts in Germany, arriving in Holland, first in Friesland then in Amsterdam, and from there setting sail for Suriname, South America. A common elements the narration intertwining  the heritage of the Archiginnasio Library with contemporary artistic sensibility: each showcase, in fact, contains original illustrations of the artist's book together with the  antique volumes and iconographies that inspired it.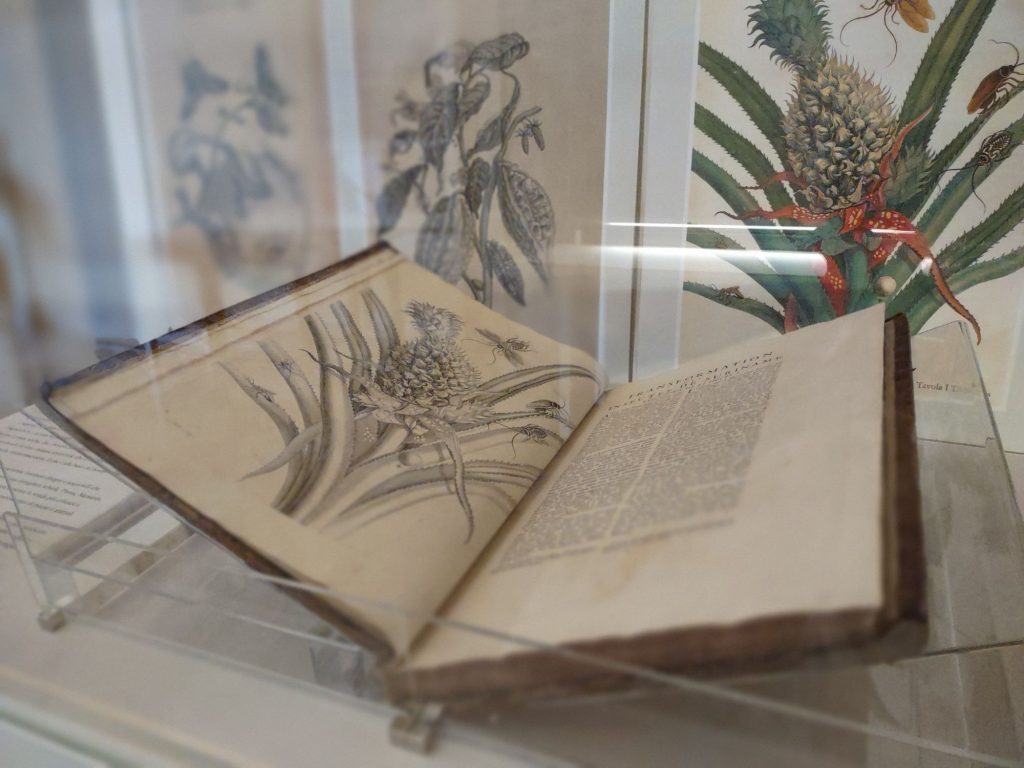 Merianin as Merian was called to distinguish her from her famous artist and engraver father) produced this extraordinary book on the metamorphosis of insects in Suriname upon her return from a trip to the tropical country at the age of 52.  The work aroused great interest even before publication because it was the result of a very daring expedition for the time and for her methods of observation, description, and representation of tropical insects, animals, and plants. The first edition of the book was published in Amsterdam in 1705 in Latin and Dutch and contained 60 copperplate engravings based on drawings by Maria Sibylla, whose name also appeared as editor. In 1719, Merianin's youngest daughter edited the second edition,adding to it 12 plates that her mother, who had died in 1717, had not been able to produce. The Archiginnasio volume, representing the first French translation, was published in 1726 in The Hague by Pierre Gosse under the title Dissertatio de generatione et metamorphosibus insectorum Surinamensium and was edited by Merian's daughter. The volume, which includes the 72 plates already present in the second edition, belonged to Antonio Alessandrini,  Professor of Anatomy and Veterinary Medicine in Bologna, who left his library to the Archiginnasio upon his death in 1861.

Download pdf